Volkswagen of America, Inc. is pleased to announce that the Volkswagen Atlas has earned Good Housekeeping magazine's 2018 Best New Car Award in the midsize SUV category. Teaming up with experts at Car and Driver magazine, engineers from the Good Housekeeping Institute (GHI) Lab rated its top picks on value, safety, reliability, smoothness, handling, interior design, comfort and onboard technology after driving the vehicles more than 3,000 miles on test tracks and open roads.
 "We are extremely proud that Good Housekeeping magazine has honored the Atlas with this award," said Derrick Hatami, Executive Vice President of Sales and Marketing for Volkswagen of America, Inc. "The Atlas packs incredible value. Its combination of design, space, connectivity, and handling represents the best of what Volkswagen has to offer."
 "The Atlas gives you the best of both worlds - an effortless drive and an interior spacious enough for a carload of kids and adults," said Good Housekeeping. "It has much better storage than others in the category - tons of space in the center console and third row, and more with the seats folded down. We were also wowed by its solid braking and handling around corners."
 The 2018 Volkswagen Atlas was introduced in Spring 2017 as the brand's first three-row SUV. Designed specifically for the American family, the 2018 Atlas is available with two engine options-a 2.0-liter, turbocharged four-cylinder and a 3.6-liter V6-and in five trim levels: S, SE, SE w/ Technology, SEL, and SEL Premium. Atlas also offers 4Motion® all-wheel drive on a variety of trims and is assembled in Volkswagen's state-of-the-art plant in Chattanooga, Tenn. Prices start at $30,750.
The new 2018 Volkswagen Atlas has a ton to offer while remaining reasonably priced for your family. The Atlas is built in Tennessee and has a lot of modern technology features and an abundance of space while still staying true to the attention to detail and driving dynamics that you are used to from Volkswagen.
Available at Freedom Volkswagen of Morgantown, the Atlas is the perfect vehicle for a large family from Morgantown, Clarksburg, Uniontown or elsewhere in West Virginia. Get in touch today to arrange a test drive in the new 2018 Volkswagen to get a feel for it for yourself.
View Inventory for the 2018 Volkswagen Atlas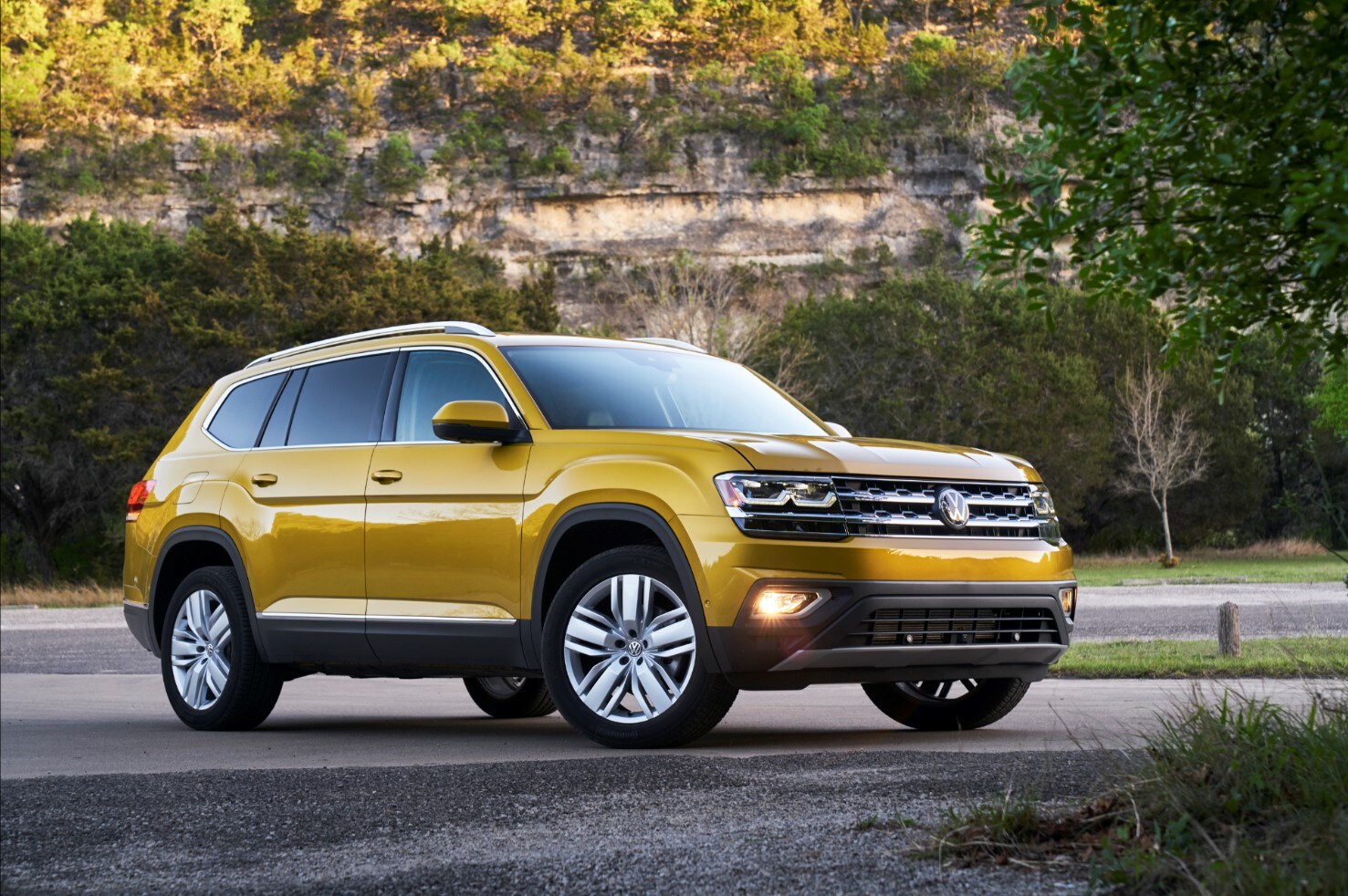 Exterior
The Atlas is the largest Volkswagen model for sale at 198.3 inches in length, 78.3 inches in width, and 69.6 inches in height. All models have the following features in common: LED front lights including low/high beams and daytime running lights, turn signal indicators, side marker lights and an 8-inch ground clearance as well as 20.4- and 22.2-degree departure angles for the front and rear respectively. 
Below you will see just some of the features that are now available on each trim:
SE trim - 18-inch aluminum alloy wheels wrapped with 245/60 all-season tires, power tailgate
SEL trim - power tailgate with Easy Open, can be outfitted with 20-inch aluminum-alloy wheels and 255/50 all-season tires or 20-inch black aluminum-alloy wheels and a panoramic sunroof (4.46 ft. by 2.85 ft.) with a two-part glass opening system and a powered sunshade
SEL Premium - LED taillights, panoramic sunroof (4.46 ft. by 2.85 ft.) with a two-part glass opening system and powered sunshade, tailgate with Easy Open and 20-inch alloy wheels, 255/50 all-season tires or optional 20-inch black alloy wheels
Interior
The interior design of the Atlas allows the driver to focus on their driving experience rather than being distracted. It is a clean layout with the greatest functionality as well as comfortable with all the premium materials throughout.
The Atlas includes a huge amount of space whether it is for passengers or cargo. The Atlas can fit seven passengers and offers 153.7 cubic feet for passenger volume. A new feature is the ability of the second row to tilt and slide forward even with car seats in place making it easier for the passengers to enter and exit the vehicle. 
The base S trim comes with cloth seats while the SE trim has leatherette seating and a second-row middle seat armrest with cup holders. The SEL trim boasts a three-person driver memory function and SEL Premium models have leather seats and heated seats in the second row.
The S and SE have two-zone climate control with a second-row panel that can be controlled by the rear passengers. The SE (w/Technology), SEL, and SEL Premium all have three-zone climate control, KESSY keyless access on all five doors and push-button start.
The MIB II Infotainment system is standard across the Atlas line and offers the most connected vehicle services and features in the auto industry today. The SEL Premium offers the new Fender Premium Audio system that was specifically made for the Atlas and offers an experience for all the passengers in the vehicle similar to a live performance. The system includes twelve speakers all together including a center channel speaker and woofer speakers in each door as well as a tweeter in the first and second rows and two wide variety speakers along with a third-row subwoofer.
Powertrain
People who choose the Volkswagen Atlas model can choose from two different engines. They are both powerful yet economical and feature plenty of horsepower to make this a smooth and capable vehicle. 
There is the 2.0L four-cylinder engine that is part of the EA888 engine line. This particular engine features turbocharged induction for plenty of pep, as well as direct fuel injection to allow for a maximum fuel economy. At 4,500 rpm, it has an impressive 235 hp and it has 258 lb-ft of torque at 1,600 rpm. 
You can also select the 3.6 VR6 at all trim levels. It has a head design that features twin overhead camshafts, cross-flow aluminum-alloy cylinders, variable valve timing, and four valves for each cylinder. 
Both engines have an automatic eight-speed transmission to push the power to the road. Some of the VR6 models feature a towing hitch for a 5,000-lbs. towing capacity. If you select a model without the hitch it can be installed separately and the vehicle will offer a 2,000- lbs. towing capacity. 
The Volkswagen Atlas has an 18.6-gallon tank that is standard on all models and the estimated V6 fuel economy is 18 mpg in the city and on the highway, it is 25 mpg. The V6 model featuring 4Motion all-wheel drive gets 17 mpg in the city and 23 mpg on the highway. 
All-Wheel Drive 
The 4Motion system is the latest in all-wheel drive and is engaged before any loss of traction or wheel spin. This advanced function helps the vehicle handle a variety of driving conditions. This system also engages the front wheels alone when carrying a small load or when just coasting to help improve fuel economy. If necessary, however, the rear wheels can be activated by the electro-hydraulic pump. 
Driving Mode 
There are four driving mode settings available when the 4Motion all-wheel drive is equipped - Custom Off-road, Snow, Off-road, and On-road. 
Onboard Safety 
Atlas models feature a wide variety of safety options. These options are designed to meet and exceed all safety regulations. They feature 6 airbags, electronic safety systems, and Electronic Stability Control. The Atlas also features an Automatic Post Collision System as standard. This system applies the brakes when there is a collision to help slow the kinetic energy of the vehicle to help avoid further impact or damage. 
Driver Assistance 
The Atlas also features Adaptive Cruise Control, Pedestrian Monitoring, Emergency Braking, Forward Collision Warning, and Autonomous Emergency Braking. In addition, the Atlas also offers an Overhead View Camera, High Beam Control, Distance Control, Parking Steering Assistant, Lane Departure Warning, Blind Spot Monitor, and Rear Traffic Alert.